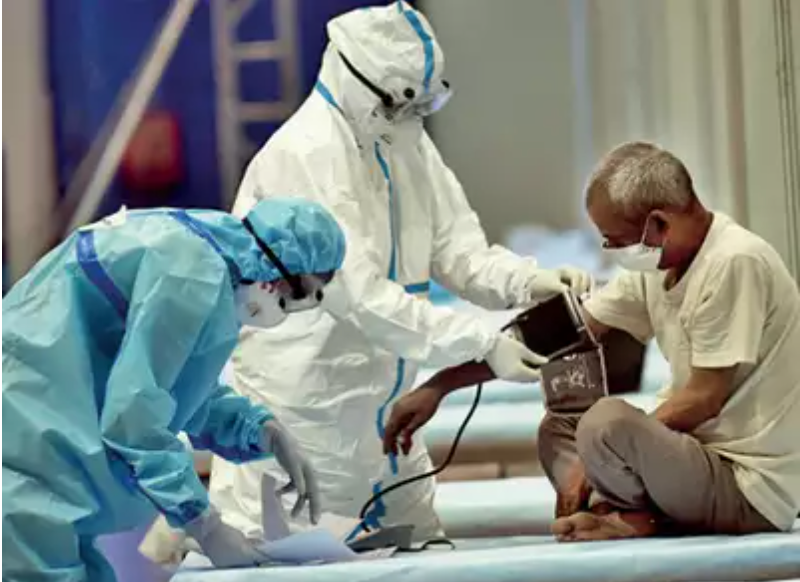 NEW
DELHI
: On Saturday, the number of people who recovered from Covid-19 in Delhi was nearly 70% more than the new cases reported the same day. The number of active cases was 19,895, more than 23% less than the 25,940 active cases reported the previous Saturday — July 4. Hospital occupancy, too, has gone down with two-thirds of patients recuperating in
home isolation
and the number of deaths has been going down too. The capital, it appears, is succeeding in containing the deadly virus, and on Saturday, Prime Minister Narendra Modi too appreciated the concerted efforts of Delhi government and the Centre and called for replicating the Delhi strategy in other parts of NCR.
Compare this with the scenario exactly a month ago when Delhi started witnessing an increasing number of cases, deaths and rising panic amongst Delhiites. In the last leg of last month, close to 4,000 new cases were being reported regularly, with the high of 3,947 cases on June 23.
The number of Covid-19 positive cases in Delhi might have crossed the figure of one lakh, but in a good sign, the number of new cases, positivity rate and deaths are witnessing a dip every day and seem to have plateaued. What changed in the past one month? Though the fight is on and is going to be a long one in all likelihood, the state government seems to have chosen its weapons wisely — aggressive testing, home isolation and plasma convalescent therapy. The Centre's role in bringing all stakeholders together also gave an impetus to the process.

In the second week of June, aggressive testing started in Delhi. Initially, Delhi government was asking private labs and hospitals not to test asymptomatic cases and the daily testing number was less than 5,000 till May. However, once the Centre allowed rapid antigen tests, the numbers picked up and more than 20,000 tests are being carried out daily now.
"We have a full-fledged war room where every data point on new and active Covid cases is tracked along with the various interventions to control the pandemic," deputy chief minister Manish Sisodia told TOI. "The district-wise pattern is very dynamic and keeps on changing. As of now, South West, West and East Delhi are the most affected districts and we already have a more intensive management plan for these districts, be it higher number of containment zones, intensive screening and testing, higher deployment of ambulances, targeted testing of special surveillance groups (SSGs) such as maids, autorickshaw and taxi drivers, etc," he said.
The fear of being whisked away to a quarantine facility and the 'stigma' of the infection meant that despite having clear Covid-like symptoms, many avoided getting themselves tested and waited till symptoms turned severe and required hospitalisation.
This is where the home isolation strategy worked. Home isolation has been a big success in Delhi and has helped a majority of patients, asymptomatic and mild, recover in the comfort of their homes. Those recuperating in home isolation constitute almost 80% of all Covid-19 positive cases.
Till early June, there were only eight private hospitals that were treating Corona patients and these had a total of 700 beds available. This was in addition to 2,500 beds in Delhi government hospitals. When the cases started rising in the first week of June, the private hospitals reached their capacity and patients looking for beds couldn't find any even after visiting two to three private hospitals though more than 1,000 beds remained available in government hospitals.
This is when the Delhi government issued an order that all private hospitals with more than 50 beds had to reserve 40% of beds for treating Covid-19 patients. The number of Covid beds in private hospitals increased from 700 to 5,000 and were now spread over a larger area of the city.
At present, more than 15,000 Covid beds are available in Delhi but the Delhi government has no plans to allow the use of a part of this capacity for admitting non-Covid patients. "I don't think at this stage we should be thinking about reducing the number of Covid beds. This virus is quite unpredictable and the Delhi government has planned for all possible scenarios, including a future surge," Sisodia told TOI. "At the same time, we have ensured that OPD visits of non-Covid patients are resumed in all hospitals and that none of the non-Covid patients too face any difficulties receiving critical care," he added.
Delhi government had also launched the 'Delhi Corona App' that displayed real-time availability of beds in every hospital of the city. The app witnessed major teething troubles after launch with some disparities in the numbers that hospital staff keyed into the app and the actual number of available beds. The situation, however, improved in some time and 24×7 dedicated helpline numbers were also started for each hospital.
Covid-19 has a 2%-5% mortality rate across the world, and in absence of a vaccine, it may not be possible to bring the mortality rate down to zero. The number of deaths in Delhi, however, has come down and plateaued with the overall death rate coming down to 3.02% from 3.64% in June. However, the daily average has come down to roughly 2.5% with the average daily number of deaths being less than 50.
Monitoring oxygen levels and having accessible supply of oxygen was crucial to prevent mortality of patients in home isolation and Delhi government provided oximeters to all patients recovering in home isolation to let them monitor their oxygen levels to prevent any sudden falls. The Delhi government purchased 59,600 oximeters and 58,974 are in use today by patients in home isolation. Oxygen concentrators were provided to local dispensaries.
Delhi's big success but also an emerging challenge has been plasma convalescent therapy, which has shown encouraging results. Delhi was the first to start an experimental trial of plasma therapy in LNJP, the largest Delhi government Covid-19 facility and trial results were encouraging. In another first in the country, a 'plasma bank' has been set up by the state government. The challenge, however, is that not many people who have recovered from Covid-19 are coming forward to donate their plasma.