By:
PTI
|

Updated: July 7, 2020 5:17:16 pm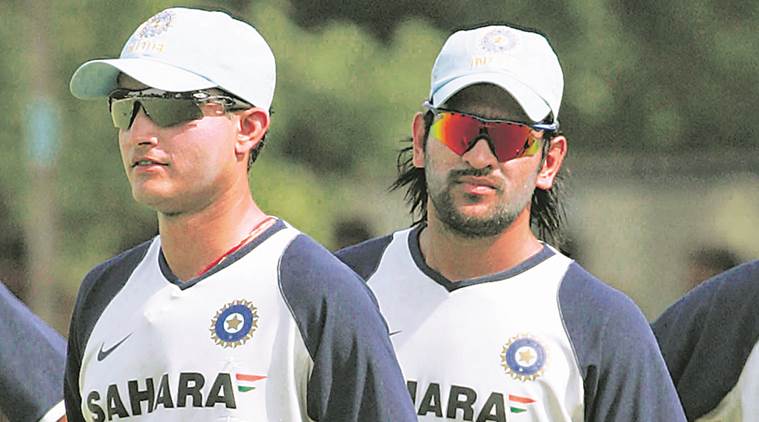 Sourav Ganguly (R) was India captain when MS Dhoni made his debut.
Mahendra Singh Dhoni went on to become one of the best finishers in the game but on his 39th birthday, former India captain Sourav Ganguly said the World Cup winning skipper would have been even more lethal if he batted higher in the order.
Ganguly, the current BCCI president, led a barrage of birthday wishes for 'captain cool'.
"He's one of the great players of the world cricket, not just a finisher. Everyone talks about the way he finishes lower down the order. I always believed that he should bat up the order because he was so destructive," Ganguly said in a chat show hosted by young India opener Mayank Agarwal on BCCI's Twitter handle.
Ganguly, who had handed Dhoni his international debut against Bangladesh on December 23, 2004, recalled how he rose to fame with his 148 against Pakistan batting at Number three.
"It was fantastic. If you look over a period of time in the history of one-day cricket, the best players can find the fence under pressure consistently. MS Dhoni was one of them and that's why he was special."
Asked whether it was him who picked Dhoni in the team, Ganguly said: "Ya that's true, but that's my job isn't it? That's every captain's job to pick the best and make the best team possible.
"You go by your instincts, you go by the faith on that player that he'll deliver for you. And, you know, I'm happy that Indian cricket got a Mahendra Singh Dhoni, because he's unbelievable," Ganguly said.
Dhoni was last seen in action about a year ago when he was run-out for 50 by a brilliant Martin Guptill throw that eventually ended India's campaign at the 2019 World Cup.
He was set to make a much awaited comeback with the 2020 IPL in March but the event has been postponed indefinitely due to the COVID-19 pandemic.
? The Indian Express is now on Telegram. Click here to join our channel (@indianexpress) and stay updated with the latest headlines
For all the latest Sports News, download Indian Express App.