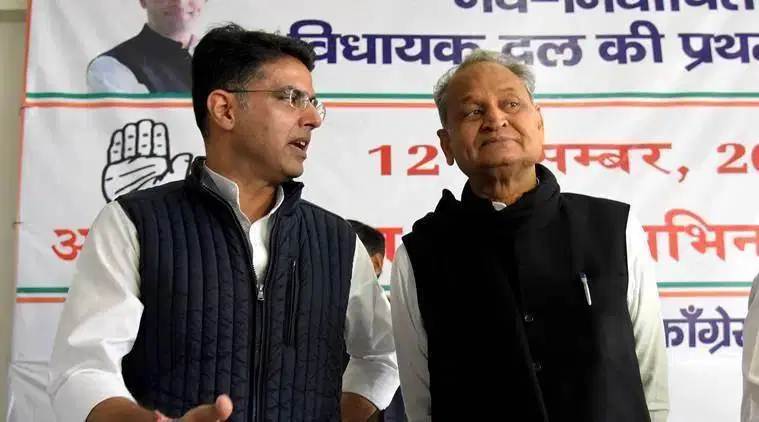 Rajasthan CM Ashok Gehlot with Sachin Pilot (File)
Three days after the showdown between Chief Minister Ashok Gehlot and his deputy Sachin Pilot triggered a crisis in Rajasthan, the Congress moved swiftly on Tuesday, removing Pilot from both his posts — as deputy chief minister and state PCC chief.
The party also cracked the whip on Pilot's loyalists: Vishvendra Singh and Ramesh Meena were removed from the state cabinet, and the state presidents of the Youth Congress and Seva Dal were replaced. The decision was announced after Pilot and his MLAs skipped the Congress Legislature Party (CLP) meet in the morning — the second in two days — at a hotel on the outskirts of Jaipur, where the Gehlot camp is keeping Congress and other supporting MLAs.
Soon after he was sacked, Pilot tweeted: "Satya ko pareshan kiya ja sakta hai, parajit nahi (Truth can be harassed, not defeated)." In another tweet at night, he said: "My heartfelt thanks and gratitude to all those who have come out in my support today."
Later in the day, Gehlot chaired a cabinet meeting at his residence. Sources said he discussed cabinet expansion and allotment of portfolios – nine departments are now without a minister.
Education Minister and OBC leader Govind Singh Dotasra has been made the new PCC chief; Ganesh Ghogra has replaced Ladnun MLA Mukesh Bhakar as the state IYC chief; Hem Singh Shekhawat has replaced MLA Rakesh Pareek as the state president of the Congress Seva Dal.
Late in the night, Rajasthan Congress in-charge Avinash Pande dismissed the entire state party unit, and said all appointments would be made afresh. He also issued a gag order on party leaders, barring them from communicating with the media without permission from the new PCC chief.