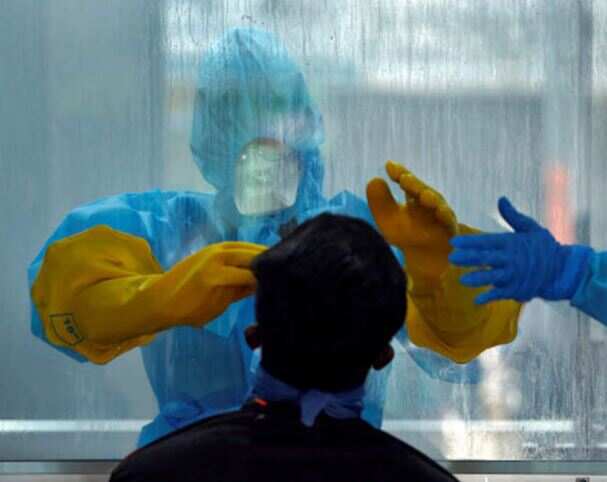 CHANDIGARH: Diagnostics have been of immense help in containing Covid-19. TOI's
Shimona Kanwar
spoke to experts to understand the type of tests which are available to detect the virus and their accuracy

New, quicker test available
A new kit based on Clustered Regularly Interspaced Short Palindromic Repeats technology (CRISPR) gives the result in a hour's time. It is claimed that unlike RTPCR , CRISPR has fewer chances of giving inaccurate results. In this technique, genetic material from the RNA of the virus does not have to be converted into DNA. That is why while RTPCR takes 5-6 hours in one round, CRISPR takes just about an hour. The test has been approved by FDA

Best time for accurate test
There have been publications which have found that the usual incubation period for Covid-19 is five days, and the vast majority of infected patients who develop symptoms will do so within 10-14 days. Detection of specific antibodies, typically, begins during the first week of symptoms, and many patients seroconvert by the end of the second week after symptoms begin, with nearly all patients becoming seropositive by the end of the third week. However, some patients remain asymptomatic despite viral shedding, and asymptomatic or pre-symptomatic individuals make an important contribution to SARS-CoV-2 transmission.

Why are rapid test kits required?
Serology testing is popular due to short time of diagnosis and ability to test for an active immune response against the virus. Centers for Disease Control and Prevention currently recommends molecular testing (PCR, antigen). The Johns Hopkins Bloomberg school of public health has documented that while serology tests are now widely available, correlates of immunity are incompletely understood. The presence of antibodies does not indicate that an individual is protected from reinfection. There is limited understanding of the levels and persistence of antibodies necessary for protective immunity.

Indigenous tests
RT-LAMP TEST Indian Institute of Integrative Medicine, Jammu, has partnered with Reliance Industries to develop a RT-LAMP-based diagnostic kit. Reverse Transcriptase-Loop Mediated Isothermal Amplification (RT-LAMP) test is a nucleic acid-based test carried out from nasal or throat swab sample. It takes up to 60 mins, is cost effective and accurate. It is being validated
FELUDA 'Feluda' kit is a paper-based diagnostic that uses CRISPR geneediting technology to get results. CSIR has developed the test. which tales just 30 minutes. It is like a pregnancy test where the paper strip can be used for rapid mass testing.

Types of diagnostics
There are mainly two broad ways to detect the virus — molecular-based testing and protein-based rapid testing. Under molecular testing, there are diagnostics like RT PCR (reverse transcription polymerase chain reaction), GeneXpert, CRISPR. In case of rapid tests, proteins are tested and the testing is be based on antibodies and antigens. Rapid test kits are either for antigen or antibody testing.

Only 2 tests in UT
Only RT PCR and GeneXpert are available in Chandigarh. Both have high sensitivity and specificity. This implies the window for error is slightly lesser than other tests. RT PCR is considered the gold standard. It is believed GeneXpert has higher sensitivity of 99% as compared to RT PCR, which has 70%-90% sensitivity for RNA virus detection. GeneXpert is available at PGI, while RT PCR is at Government Medical College and Hospital and the Institute of Microbial Technology.

Used for HIV, H1N1
The two tests have been used before in infections like tuberculosis, HIV and H1N1. In fact, RT PCR was used during H1N1. Cartridge-based diagnostic machines like the GeneXpert have been used for tuberculosis and HIV. For Covid-19, machines are the same, except reagents and cartridge.